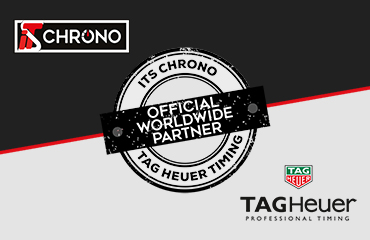 Official Worldwide Partner TAG Heuer Timing
With his expertise and know-how, TAG Heuer initiated the first certifications of timing equipment in the sports industry with the FIS (International Ski Federation) followed by the FEI (International Equitation Federation) and the FIM (International Motorcycling Federation). Reinforced by the "TAG Heuer by Lynx" and "TAG Heuer by Chronelec" product ranges, the TAG Heuer Timing product range is accelerating its development and becoming unparalleled in the world of timekeeping. With its wide range of products, it offers "Global Timing Solutions" for the most demanding sports competitions.
During 2020 and as part of a global project to reorient TAG Heuer Timing's activities towards more digitalization, TAG Heuer decides to stop the distribution of TAG Heuer Timekeeping devices in their current form. As an important player after more than 10 years of close collaboration in the continuous development of improvements to TAG Heuer Timing solutions and thanks to its experience in the field of timing at the highest level (Macau Grand Prix, WTCC, WTCR, EWC, SuperEnduro,…), ITS Chrono was chosen to ensure the continuity of TAG Heuer Timing products for after-sales service around the world.
www.itschrono.com
Circuit de l'Enclos
Since October 9, 2019, a new collaboration has emerged between ITS Chrono and the Circuit de l'Enclos. Always looking for the optimization of its product range, this new partnership will enable ITS Chrono to test its new products and software under real conditions on a FFSA approved circuit to best meet the needs of its customers and the requirements involves performance.

The Circuit de l'Enclos, homologated by the Federation since October 1992, with its fast part and technical turns, is drawn in a bucolic setting and on a hilly terrain, the track is very well received by the drivers.
A second 512 meter track was created to release the 1,172 meter long competition course with a width of 7.50 meters.

Highly appreciated by our Swiss neighbors who come frequently to Septfontaines, the resort has often had the honor of welcoming Alain Prost and his son Nicolas, two great karting enthusiasts.
www.circuitdelenclos.com
FFSA
ITS Chrono has been offering the Official Timing System of the FFSA for several years. The close collaboration with the FFSA allows ITS Chrono to continue the development of its products closer to the expectations of the organizers, the competitors and all the actors of Motor Sport.

French Federation of Automobile Sport (French: Fédération Française du Sport Automobile, FFSA), founded in 1952, is one of the National Sports Associations affiliated to the Fédération Internationale de l'Automobile (FIA), with the aim of organising, regulating and developing motorsport in France.

By representing the government on the field, the FFSA guarantees the political development of the automobile sport and karting in France.
www.ffsa.org
EARTEC
Since 2019, ITS Chrono is an official reseller of Eartec brand products and further improves its wireless communication range to meet the needs of its customers.

Specialized in push to talk (PTT), simplex and full duplex communications since 1961, Eartec is one of the leaders in the sector. The user-friendly and hands-free systems developed by Eartec can be interfaced with many other devices and have the advantage of being able to be used worldwide for license-free and interference-free digital voice communications.
www.eartec.com
HELMUGA.CLOUD
World leader with the Tour Tracker platform, Helmuga currently has over one million users. Thanks to a qualified R&D team and technical advisers in many disciplines, Helmuga offers software and application solutions to monitor athletes and check their course situation in real time with a very comfortable GPS box for athletes.

As obvious, the collaboration with Helmuga since June 2020 allows ITS Chrono to offer its customers better control of the race to improve race monitoring, athlete safety, visibility and the promotion of sporting events at the international scale.
www.helmuga.cloud