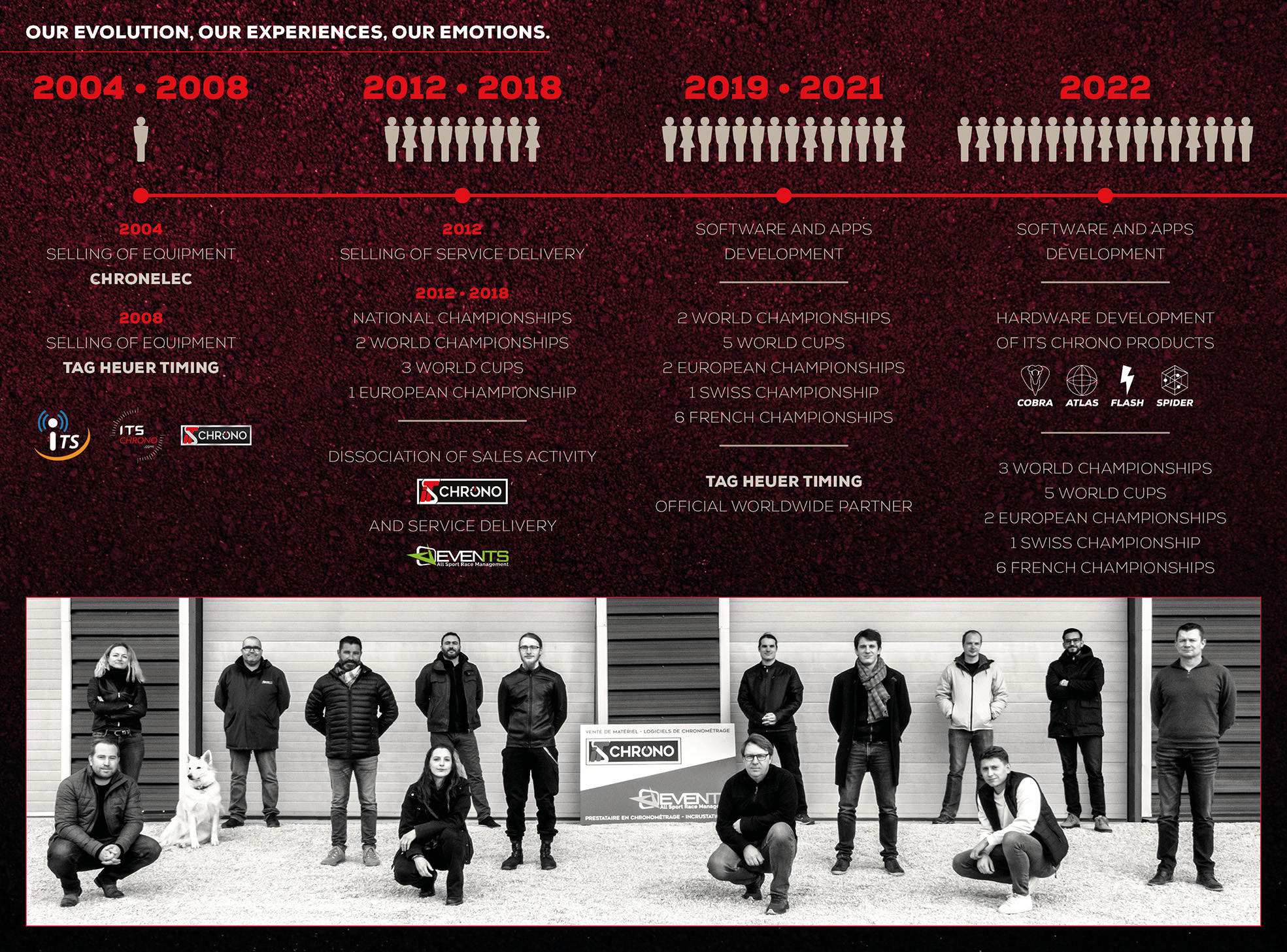 For more than 15 years, ITS Chrono is specialized in the sale of timing systems, in the service of timing and TV graphics, and in the development of complementary software related to timing. Supplier of a large number of national and international federations, we intervene in many disciplines and many countries with our high level experience. ITS Chrono is official distributor of TAG Heuer Timing products for 10 years and distributor of Chronelec products for France for 15 years and other countries in the world.
Sale of timing systems
ITS Chrono offers 4 different timing technologies that allow us to meet 100% of requests regardless of the sporting field:
Chronoprinter TAG Heuer individual timing system with photocells (Downhill Ski, Skate, Time Trial, Hill Climb etc...)
Transponder timing system for simultaneous crossings of several competitors on the same high-speed line (from 30 km / h to 500 km / h)
TAG UHF timing system (RFID) for simultaneous passes of several competitors on the same line at low speed (marathon, triathlon, running etc...)
TAG Heuer by Lynx Photofinish camera timing system (picture proof and extremely precise: 1/10 000 of a second), the only solution that combines precision and image proof, whether at low or high speed (Athletics, cycling, car racing etc...)
To help you in your choice, we offer "typical" diagrams to visualize the solutions available to you ; there are global timekeeping solutions, for competition or training, for a multitude of disciplines, with a large choice of materials and possible configurations.
Timekeeping service and TV graphics of sports events
To serve you better, since 2018, ITS Chrono has separated the service from the sale of timing equipment. For more information on services, you can go to ITS Events.
Software development
Always keen to stay at the forefront of technology, the ITS Graphics division was created in 2015 within ITS Chrono with a team of experienced developers. We are therefore happy to regularly offer you new applications and software solutions from the ITS Software range that will meet your expectations.
Advice and training
For all your questions and requests for additional information, we are at your disposal from Monday to Friday, from 9:00 to 12:30 and from 13:30 to 17:00, by email to contact@itschrono.com, by phone at 03 81 57 52 09, or via Online Chat. We offer training on the equipment we sell, and can even move to install the equipment on your circuit.